October 31, 2004
FESTIVAL ROUNDUP
| | |
| --- | --- |
| | Pedro (José Luis Garcia-Peréz) shares a family bond with nephew Bernardo (David Castillo) on a Madrid patio in Cachorro. |
2004 Seattle Lesbian & Gay Film FestivalThe Seattle Lesbian & Gay Film Festival in October seemed to tap into a fresh exuberance, and even taking risks on new films in the event's most ambitious ninth annual. The fest had added the newly minted Northwest Film Forum on Capitol Hill to its set of venues, including downtown Seattle's Cinerama. And festival organizers also planned a handful of well-attended parties, including the gala reception at Top Pot Doughnuts for Thai filmmaker Ekachai Uekrongtham for
Beautiful Boxer
, which won an audience award for Best Film.
Beautiful Boxer follows the real-life story of Nong Toom, a young effeminate boy from a poor rural family in Thailand who trains to become a professional kick boxer. His mercurial success — defying expectations in a machismo-oriented culture — ultimately grants him with enough money to secure a gender-reassignment operation. His life-long goal to become a woman is not without several bumps in the road, and his obsessive-like quest is seemingly at odds with prize-fighting on the kickboxing circuit. However, Uekrongtham's sensitive and dramatic portrait, marking his feature-length debut, is a directorial triumph in narrative, and drawing fine performances from his cast, particularly Asanee Suwan – a former kick box fighter – in his first film role.
HBO, which conducted the fest's closing night ceremony at the Cinerama prior to the dreadful film Dorian Blues, dispensed its awards to best films and shorts, both juried and audience-selected titles. While Beautiful Boxer evidenced merit and picked up the audience favorite for Best Film, the juried-award film for Best Gay Film went to Cachorro (Bear Cub), 2004, from Spanish filmmaker Luis Miguel Albaladejo.
Cachorro, inspired by Pedro Almodovar's updated spin on the telenovela, follows Pedro, a dentist with a spirited penchant for cruising Madrid's clubs and bars. His sister, about to embark on a trip to India with her boyfriend, leaves her young son Bernardo to stay with him while she's on holiday. Pedro and Bernardo, while content in each other's company, find themselves in a brewing custody case with the boy's estranged grandmother when his mother is imprisoned in India for drug possession.
The film's gentle bear dance between Pedro and his nephew are handled with a kind of familial tenderness in the middle of different characters — friends, co-workers, lovers, and others who intersect their lives. Shot in autumnal tones with intimate depictions of Pedro with his lover, clubbing in gay discos, and partying with his bear friends, savors his banal yet centered urban life.
Despite José Luis Garcia-Peréz's lead performance — who plays the role of Pedro with charisma and confidence and achors the film — in Cachorro , the juried-award for Best Film seems to have missed the mark when paired against Beautiful Boxer. Arguably, both films were among the festival's high points in an unevenly programmed but ambitiously expansive schedule. And the fact that both films did receive top acknowledgment reflects the strengths of the festival jury and audience alike.
Posted by Eric at 08:52 PM | Comments (0)
October 10, 2004
VIFF 2004 Round Up: 10 on Ten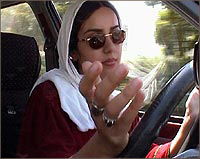 10 ON TEN
Directed by Abbas Kiarostami, 2004
Abbas Kiarostami, best known for his contemplative works
Ten
,
The Wind Will Carry Us
and
Taste of Cherry
, delivers a lecture about filmmaking from inside his car on the edges and in the foothills above Tehran, near where he filmed
Cherry
. His professional sentiments and methodology towards filmmaking echoes expressions and ideas offered by other filmmakers; specifically Lars von Trier and Peter Greenaway, who work outside convention to produce highly personal and independent works. Moreover, these filmmakers have their own manifestos and professional credos: to produce films adhering to strict limitations and free from the American formulaic standard.
Of this, Kiarostami explains why — in ten "lessons" — it is paramount for him to make films on his own terms — rather than for the government or studio, with limits on camera, the absence of music in post-production, an emphasis on casting non-actors to perform in roles genuine to their own lives, and so forth.
Before pulling up the brake to take a piss outside of his car, Kiarostami glares into the camera and says: "If you want to be successful and make a successful film, then follow the American formula. That's it, that's all I have to say."
But clearly, that is not all he has to say, because in the preceding 88 minutes, Kiarostami expresses a desire to make very personal films unencumbered by filmmaking standards towards genre cinema and formula. Drawing upon his previous work and experience as a filmmaker working Iran, he turns the camera on himself to share thoughts about the pleasure and difficulty to script, cast, and shoot his films. The camera, for Kiarostami, has been very liberating for him, as he describes his nearly lifelong passion to work as a filmmaker.
To make films, he says, involves an immersion in all aspects of the craft. He will draft a script, scout locations, audition his cast, and edit the film after the shooting schedule is complete. Moreover, he sets the tenor of his work carefully and thoughtfully, and is not interested in producing work that satisfies a Western or American production model.
Granted, 10 on Ten for all of its insight to Kiarostami's stalwart approach, requires careful patience with the static, yet bumpy, focus on the filmmaker as he drives and speaks to the camera, and for the layered English-language voice-over throughout the film.
Posted by Eric at 05:38 PM | Comments (0)