September 22, 2006
"LOST" CINEMA: FILMS AT VIFF'S FIRST 25 YEARS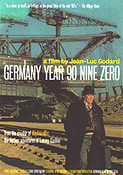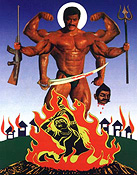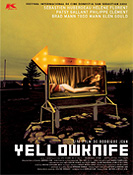 Screened at VIFF: film posters from Germany Year 90 Nine Zero directed by Jean-Luc Godard, Father, Son and Holy War directed by Anand Patwardhan,
and Yellowknife directed by Rodrigue Jean.
Film festivals provide not only great opportunities to see the current cinema of the moment, but also impart lasting impressions of some striking films, many of which do not find encore screenings elsewhere or appear on DVD. The Vancouver International Film Festival, now in its 25th year, is no exception. Although I haven't attended the fest each year or for its duration each Fall, I do have some favorite films, several of which have made lasting impressions.
Films that I describe as "lost" cinema — those films that have had a brief run on the festival circuit and then archived quietly in the filmmaker's or print source vault. Some films have appeared on DVD or video, but only for limited circulation. I will include a sampling of titles that comprise some of VIFF's most memorable selections from the fest's first 25 years.

Pugalo
Directed by Alexander Kott
Russia, 2000
VIFF 2000
This memorable 15 minute short from Russia, shot in crisp black & white with virtually no dialogue, depicts a young boy living with his withered grandfather in a caravan on the rolling hills of the Russian steppes. The film's title, Pugalo, means "scarecrow" – the boy's cherished companion in the late summer's harvest season. Although the boy briefly strikes up an acquaintance with a young girl his age, her family moves on towards the next village, leaving him behind with his scarecrow friend as fall's crisp air rises up from the valley.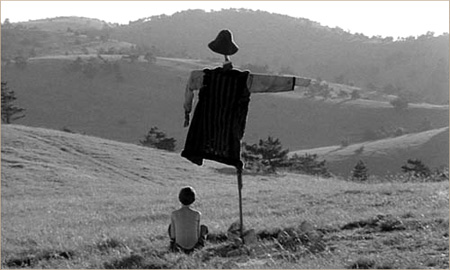 Pugalo
Directed by Alexander Kott
Russia, 2000


Das Jahr Nach Dayton (The Year After Dayton)
Directed by Nikolaus Geyrhalter
Austria / Bosnia-Herzegovina, 1997
VIFF 1998
Originally produced for Austrian television, this nearly 3½-hour long film depicts life in urban and rural Sarajevo in the year following the Dayton peace accords ratified in November 1995. The film's length is divided in four parts, each part associated with a season during the year, beginning in winter. More than a mere snapshot, Geyrhalter's documentary interviews people in all walks of life — Muslims, Serbs, Croats, farmers, school teachers, soldiers, students and civilian employees — all of whom were trying to reestablish routine but also taking stock of the emotional and physical scars of war. One of many lingering and haunting images in the film show aerial and street-level views of soldiers playing football with children in a shelled mosque — abandoned and left in ruin. Unfortunately, this film had limited circulation on the festival run between 1997 and 1998, and does not seem to be available commercially in the United States. The Year After Dayton was one of VIFF's stronger documentaries that year.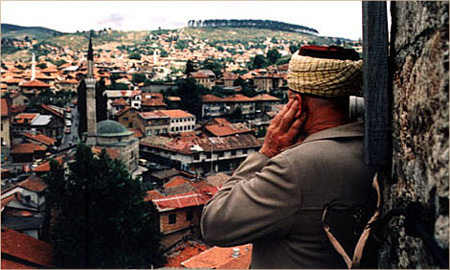 Das Jahr Nach Dayton (The Year After Dayton)
Directed by Nikolaus Geyrhalter
Austria / Bosnia-Herzegovina, 1997


Yellowknife
Directed by Rodrigue Jean
Canada, 2002
VIFF 2002
Every so often, a film gets made and has a few screenings then disappears for a number of reasons. A mystery, however, seems to enshroud both the film and the filmmaker for Yellowknife who hasn't made a film since. Directed by Québécois Rodrigue Jean, his second feature film, Yellowknife revels in the shadows of the sexual landscape, picking up a few passengers along the way for a ride. The film opens in Moncton, New Brunswick, where a young brother (Sébastien Huberdeau) kidnaps his depressed sister (Hélène Florent) from a hospital and decide to drive west across the Canadian prairie for a new and better life. En route, they bring some entertaining companions that also entertain: gay hustling stripping twins (Brad and Todd Mann) and soul diva (Patsy Gallant) and her agent (Philippe Clément). Against the backdrop twilight of the Northwest Territories, the six of them share secretive trysts, drugs, cheap motels, sex, rural club life and breakfast before it all unravels in Yellowknife. Sadly, this film, with its David Lynch "northwest noir" mood, is unavailable for theatrical distribution or DVD release in North America.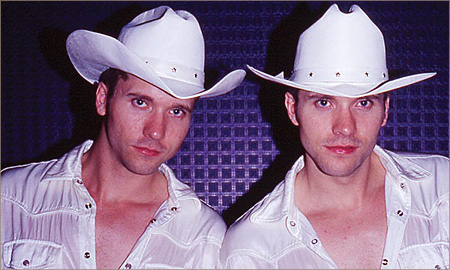 Yellowknife
Directed by Rodrigue Jean
Canada, 2002


Deep Inside Clint Star
Directed by Clint Alberta
Canada, 1999
VIFF 1999
How are young Native Canadians doing these days? Just fine, and thanks for asking! Young filmmaker Clint Alberta explores youth culture, sexuality, intimacy, future dreams, and digs friend Hugo's punk rock roots in Deep Inside Clint Star. From Edmonton to Toronto, Clint Alberta keeps it real — and fun, too — as he opens his friends up to express their thoughts about their lives on camera. Tawny Maine confides her difficult past — one she wants to break from and go to university with her friends and new life. Hugo lets out internal tension on stage in his punk band, Harvey struggles for self-acceptance with his sexual identity, and Becky finds cathartic release from sharing her past. Deep Inside Clint Star is a genuine and memorable portrait of Clint's family and friends, and a rare glimpse of Native Canadian youth exposing their personal narratives.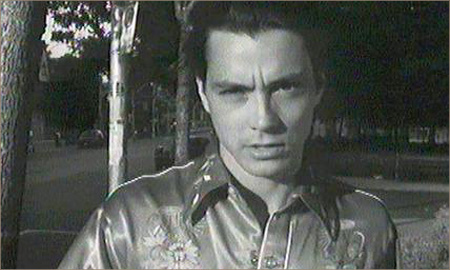 Deep Inside Clint Star
Directed by Clint Alberta
Canada, 1999


Yang Ban Xi — The 8 Model Works
Directed by Yang Tin Yuen
Netherlands, 2005
VIFF 2005
Dutch documentaries have been really strong over the years at VIFF, including The Great Post Road (VIFF 1996), Shape of the Moon (VIFF 2005), and this one, Yang Ban Xi — The 8 Model Works directed by Yang Tin Yuen. Before the Gang of Four trials in 1981, Jiang Qing — Madame Mao — had produced over 13 Revolutionary Model Operas during the Cultural Revolution and exalting the mythical glories of same, since she had banned traditional opera. Staged for film, eight different operas came to be collectively known as "Yang Ban Xi" — the Eight Model Works. The Yang Ban Xi was Socialist Realism set to music and dance, and were widely popular before they became regarded as some of the excesses left behind from the Cultural Revolution following Madame Mao's downfall. Part memoir, part film history, Yang Ban Xi is a fascinating glimpse at China's entertainment legacy from that pivotal era.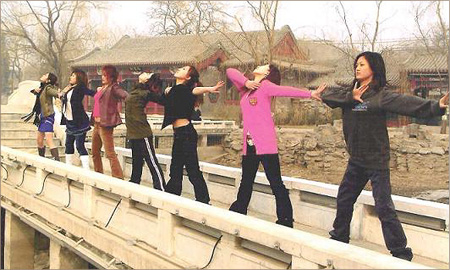 Yang Ban Xi — The 8 Model Works
Directed by Yang Tin Yuen
Netherlands, 2005


Benny's Video
Directed by Michael Haneke
Austria / Switzerland, 1992
VIFF 1992
Before audiences became familiar with Austrian filmmaker Michael Haneke and his recent psychological thriller Caché (2005), his disturbing film Benny's Video appeared at VIFF in 1992. It was Haneke's second film in a proposed trilogy exploring what he calls the "progressive emotional glaciation of Austria," following a film he made earlier called The Seventh Continent, inspired by a true story of a middle-income family's suicide pact. Benny's Video unspools nonchalantly with a family visit to the country, where at a small farm the teen-age Benny witnesses a pig slaughter with a butcher gun. Fascinated by the violent immediacy delivered with the gun, Benny steals it and ultimately finds a young girl who he takes home at his parent's sterile apartment and videotapes her killing with it. Haneke's film depicts the dark coldness of alienation and domestic horror in Benny's Video — a theme he threads through his later work.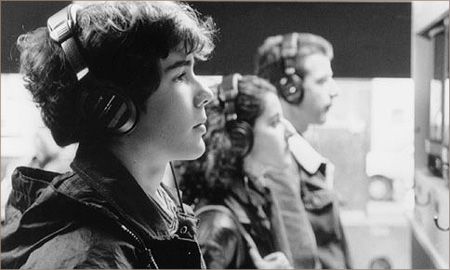 Benny's Video
Directed by Michael Haneke
Austria / Switzerland, 1992

Posted by Eric at 12:51 PM | Comments (0)