October 10, 2004
VIFF 2004 Round Up: 10 on Ten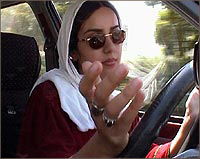 10 ON TEN
Directed by Abbas Kiarostami, 2004
Abbas Kiarostami, best known for his contemplative works
Ten
,
The Wind Will Carry Us
and
Taste of Cherry
, delivers a lecture about filmmaking from inside his car on the edges and in the foothills above Tehran, near where he filmed
Cherry
. His professional sentiments and methodology towards filmmaking echoes expressions and ideas offered by other filmmakers; specifically Lars von Trier and Peter Greenaway, who work outside convention to produce highly personal and independent works. Moreover, these filmmakers have their own manifestos and professional credos: to produce films adhering to strict limitations and free from the American formulaic standard.
Of this, Kiarostami explains why — in ten "lessons" — it is paramount for him to make films on his own terms — rather than for the government or studio, with limits on camera, the absence of music in post-production, an emphasis on casting non-actors to perform in roles genuine to their own lives, and so forth.
Before pulling up the brake to take a piss outside of his car, Kiarostami glares into the camera and says: "If you want to be successful and make a successful film, then follow the American formula. That's it, that's all I have to say."
But clearly, that is not all he has to say, because in the preceding 88 minutes, Kiarostami expresses a desire to make very personal films unencumbered by filmmaking standards towards genre cinema and formula. Drawing upon his previous work and experience as a filmmaker working Iran, he turns the camera on himself to share thoughts about the pleasure and difficulty to script, cast, and shoot his films. The camera, for Kiarostami, has been very liberating for him, as he describes his nearly lifelong passion to work as a filmmaker.
To make films, he says, involves an immersion in all aspects of the craft. He will draft a script, scout locations, audition his cast, and edit the film after the shooting schedule is complete. Moreover, he sets the tenor of his work carefully and thoughtfully, and is not interested in producing work that satisfies a Western or American production model.
Granted, 10 on Ten for all of its insight to Kiarostami's stalwart approach, requires careful patience with the static, yet bumpy, focus on the filmmaker as he drives and speaks to the camera, and for the layered English-language voice-over throughout the film.
Posted by Eric at October 10, 2004 05:38 PM
Comments
Post a comment
Thanks for signing in, . Now you can comment. (sign out)
(If you haven't left a comment here before, you may need to be approved by the site owner before your comment will appear. Until then, it won't appear on the entry. Thanks for waiting.)